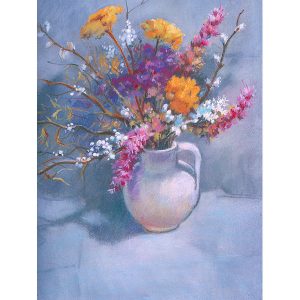 A lifelong passion for painting, gardening and travel has led me to paint the floral still life and landscape. As a painter, I react to the ever- shifting flow of light that touches my subject matter, whether it is a floral or a landscape.
I am inspired by the vibrancy of luscious colors that change with every new hour, day and season. I like to explore the varied shapes, values of color, textures and structures of the flowers before me and apply the same sense of wonder to the spacious vistas of my captured landscapes.
In my work, I stress the use of light and shadow, depth of color, line quality, texture and form. As I paint my pastels, I make use of interlacing strokes of pastel to create layers of impressionistic broken color.